Practising Reiki in a clinical environment
Research suggests there is value in integrating touch therapies such as Reiki into acute hospital settings.
Melanie Glanville's parents were both doctors, and since learning Reiki it had been her ambition to explore ways of bringing Reiki's benefits into medical settings.

A project, which has come to be known as "Connecting Reiki with Medicine" (CRWM) , presented itself to Melanie in early 2016. Melanie and a team of dedicated Reiki colleagues began to work with Full Circle Fund Therapies (FCFT) on this exciting initiative to bring Reiki onto acute wards at St George's Hospital in South West London.
In June 2016, Melanie started 6 months of clinical induction in the Haematology and Bone Marrow TransplantUnit, being mentored and generally shown the ropes by experienced FCFT Therapists. She is the Lead Practitioner for Reiki and by January 2019 the team had grown to a team of 7 Reiki Practitioners.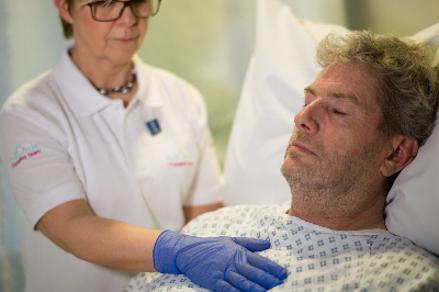 Treating a patient with Reiki in a hospital setting can bring relief from pain and anxiety.
Giving Reiki to patients in a hospital setting has added another dimension to her practice and has deepened her understanding of Reiki and how it can support a range of people in clinical settings.
Learn more about Melanie Glanville's experiences practising Reiki at St George's Hospital by exploring her blog.