Learning Reiki
When you've experienced the benefits of Reiki treatments, you may feel drawn to deepen your understanding and connection by learning for yourself. Proud of her Reiki lineage, Melanie teaches a traditional form called Usui Shiki Ryoho (USR).
Reiki level 1

This is the First Degree Initiation into the USR system, honouring the spiritual lineage of Usui, Hayashi, Takata and Furumoto. Students will receive four initiations and will become confident in using a sequence of hand positions for self-treatment and for treating others. You will learn about the history of Reiki and the Reiki principles, and will practise self-treatment and giving treatments to others, with the emphasis on good practice and ethics.
The focus of the course will be the practical integration of Reiki into everyday life, for self-healing, for use with friends, family and children, as well as plants and animals. You will have lots of time to practise with each other and to start to experience the potential of Reiki to become a spiritual practice.
Reiki 1 (£200) is generally taught over a weekend from Friday (6.00-8.30pm), Saturday (10.00am - 4.00pm) and Sunday (10.00am - 12.30pm).

2019 Course Dates:
Friday, 11th - Sunday, 13th October - FULL
Friday, 22nd - Sunday, 24th November
Reiki level 2

T
his is the
Second Degree Initiation and
is for those who wish to deepen their Reiki practice.
The focus is on distance healing and learning tools to further support physical, emotional, mental and spiritual well being.
Classes are held in small groups over two days with about
8 - 10 hours of tuition.
Reiki 2 (£350) is generally taught over a weekend between 10.00am - 3.00pm daily.
2019 Course Dates:
Saturday 14th & Sunday 15th September

Saturday 16th & Sunday 17th November
Both courses will close with a question and answer session and you will receive a certificate.
Students will be invited to attend an informal review a few weeks after training, and are further supported through community Reiki Shares and private and professional mentoring opportunities.
To book a place on a Reiki 1 or 2 course,
Contact Melanie.
Bespoke training dates?
Do you have a group of friends, colleagues or family members who would like to learn Reiki together? If 2 or more students would like to arrange special dates, contact Melanie. (Prices may vary.)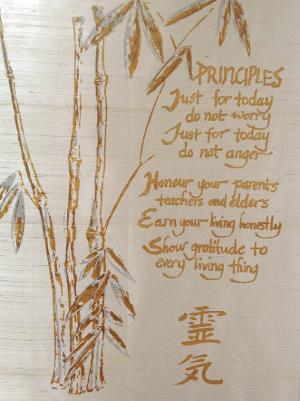 The Reiki principles are honoured when learning and practising Reiki.