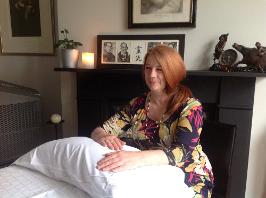 Tripuri Dunne (Pictured) Melanie Glanville's Reiki Master.
Reiki Shares

Reiki Shares are an informal way to exchange Reiki in a welcoming group setting. Shares are held throughout the year at Melanie's home in Clapham South.
Contact Melanie if you practise Reiki Usui Shiki Ryoho ("hands on"), self-treat regularly and would like to join in on any of the following dates.
Space for Shares and Circles held at Melanie's home is limited to 15 so your RSVP is important. We start each Share promptly with an Opening Circle so please feel free to arrive early. For events held at different venues, capacity may be up to 30 people.
2018

* Sunday, 16th December -

2 Candle Light Events

:
SW London Local Event:
Responding to requests for a local Share before the festive flurry, Melanie will be offering an extended "Candle Light Share" at reCentre-health's Studio, 260 Balham High Road, London, SW17 7AN (Balham Tube/mainline station nearby). You're welcome to arrive from 3.30pm and the Reiki Share will begin promptly at 4.00pm. There will be a break and light refreshments at 6.00pm, before gathering once more at 7.00pm in the beautiful studio space to light our candles and connect through Reiki with the wider global community - a welcome opportunity for gratitude and stillness. Please
RSVP to melanie.glanville@gmail.com

asap to register and Melanie will send you more details. (Donations to the 'Connecting Reiki with Medicine' project at St George's Hospital in Tooting.)
Central London 'Hub' Event:

The Reiki Association is hosting another wonderful 'hub' event, "Global Reiki Lights Festival", kindly hosted this year at Pagefield, Marshall Street, London W1F 7BE (short walk from Oxford Circus tube station). Registration will be at 3.00pm, with a Share followed by refreshments and a Circle from 6.30 - 7.30pm. Contact

events@reikiassociation.net

to make your booking. Cost: £19.00
Sunday, 13th January 10.30am - 12.30pm

Friday, 8th February 7.00 - 9.00pm
Saturday, 9th March 10.30am - 12.30pm
Tuesday, 9th April 7.00 - 9.00pm
new dates to follow soon
Award winning charity, Full Circle Fund Therapies, is working with the Connecting Reiki with Medicine initiative at St George's Hospital in Tooting. Melanie joined the FCFT team in June 2016 to offer Reiki to patients with life limiting diagnoses. Please Contact Melanie
directly for more information about how to donate specifically to the initiative.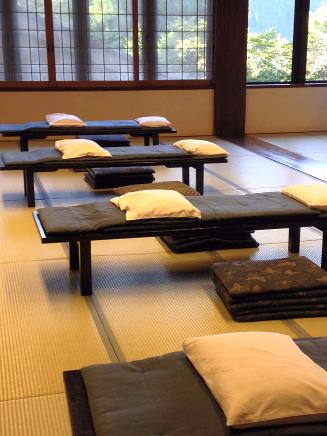 Image taken by Melanie Glanville at a Reiki Share while staying at a hot spring Onsen in Kurama, Japan in 2015.
Reiki 2 Circles

Melanie hosts opportunities for USR Level 2 students and Reiki masters to gather as a community to send distant Reiki to support situations, ranging from the personal to the global. The next dates will be:
Saturday, 16th February 3.00 - 5.00pm

Saturday, 30th March 3.00pm - 5.00pm

new dates to follow soon
Space is limited so
your RSVP
is welcomed.